Jigsaw™ datafeed controls reside on the users PC, and manage the incoming real-time data from the network. Datafeed controls taking price and news data from Reuters RMDS or TIBCO Rendezvous® sources, as well as Jiji services, are available. In each case the communication between the datafeed control and the display control uses the same (internal) protocol.
Alternatively, the datafeed controls at the PC side can process incoming data from a Jigsaw MarketCast server on the client network, which in turn communicates with the appropriate data source. This configuration can be used to host additional caching devices and databases at the network side, to provide data restore facilities to users when they disconnect from the services.
These two types of configurations are illustrated in the following samples of logical network diagrams: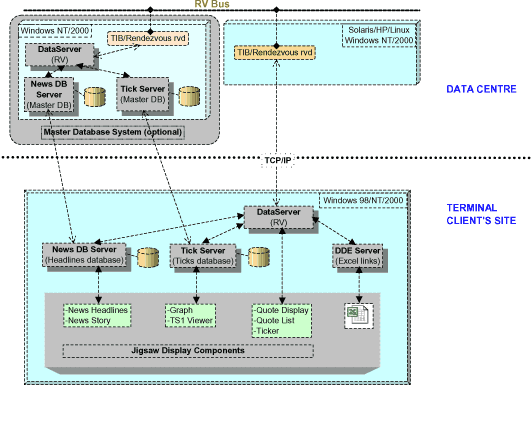 The following datafeed controls are available in the Jigsaw Platform:
Jigsaw Tick Server Control
This control processes price tick data which can be used by a variety of display controls, such as quotes, quote lists, charts and tickers. Incoming data can be sourced from another tick server control (acting as a master) or from Jigsaw Dataserver Control.
Jigsaw Reuters News2000 DB Server Control
This control manages the news headlines and stories from Reuters datafeed, and caches the data in a database, so that when the display control disconnects and reconnects, past news data can be retrieved.
Jigsaw Jiji News DB Server Control
This control is similar in purpose to the Reuters news control, but the incoming format of news data is a different protocol and delivery mechanism.
Jigsaw DataServer Control (SSL-, RV- or MarketCast- data delivery)
This server handles incoming data from the network and outputs to the appropriate Jigsaw control.
DDE server
provides a real-time link between Excel sheets within Jigsaw application, and the Jigsaw DataServer Control.
Reuters SSL, TIB and Triarch are the property of Reuters and are trademarks of Reuters. To use these servers in conjunction with a Reuters Triarch system, a run time licence to the Reuters SSL is required from Reuters.