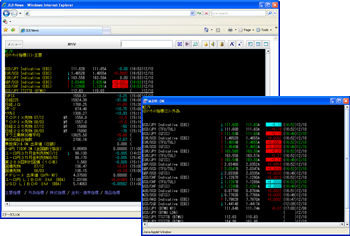 A number of Jigsaw front-end components are available as Java applets, designed for simple web-based implementations, with a user interface which is intuitive and flexible.
The Java applets use the same display templates as Jigsaw display components (ActiveX), and can also support pop-up displays.
A context-senstive menu can be configured with a list of favourite data items with user-friendly names.
For example, the following convenient features have been implemented in a product using news and prices delivered from Jiji Press:
Context-sensitive menu - switches between News and Quotes functions according to current display
News filter - ability to display news basket using pre-defined menu items or enter a search string to filter news within a basket
Historical news display - searches Jiji news archives using news categories and time period to filter results
News alerts - provides various settings for arranging pop-up windows with news alerts and alarm sounds
Historical price display - provides calendar-based search to retrieve price summary from a previous date
Printing options - print module providing customised print options applicable to news and price data

JigsawJava applets are available for News and Quotes data, and a Charts applet will also be available shortly.